Production of bellows in fiber
Bellows in fiber, made in non-deformable coated fabric, are mainly used to protect a slide or a guiding rail, to protect the movement of a table or to isolate a laser beam.
They are well suited to small spaces and high travel speeds, with the added bonus of good aesthetics.
For the projection of sparks or intense chips, the range of bellows with telescopic plates (or lamellas) is then recommended.
Protection of mechanical parts
Guiding rail
Rack
Moving table
Laser beam to isolate
Cords
Ballscrew
Trapezoidal screw
Scissors
Water, dust
Alcohols, acids and bases
Incandescent spatter and chips
Hydrocarbon splashes (oils, greases)
Puncture and tear
Ranking (under conditions)
Hydrocarbons
Chip spatter
Abrasion
For an optimum hold and alignment, a PVC frame is placed at each fold.
Each intermediate frame is adapted to the part to be protected (from the provided
drawings).
PVC
Polyurethane
Nitrile
Viton
Silicone
Antistatic
M0 or M1
Clean room (according to your specifications)
Covering fiber and support
The fiber can be coated on one side or on both sides
Support : polyester, fiberglass, aramid, leather
Attributes and performances for each material
Good protection against water, dust and some acidic environments
Polyurethane coated polyester
Good protection against chips, oils (ideal for machine tools) and abrasion
Very good resistance to chips, oils, sparks, high temperatures and chemical attacks
Almost any shape of bellows is possible. There is surely a solution adapted to your needs. Among the achievable shapes, here are the most requested.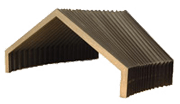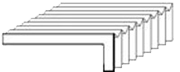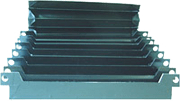 (*) Special feature : high resistance to deformation thanks to an alternating polygonal folding
Several possible solutions : flanges, fixing collars, velcro, screws or zip (allowing an easy assembly without dismantling the mechanical parts).

Some fibers are heat weldable. The assembly is then carried out by high frequency welding. The assembly can also be done by sewing (using high temperature PTFE thread) or by gluing.
Internal guiding frames or retaining sliding parts (PVC or stainless steel stiffeners) as well as metal rings (guiding rings) can be considered when the bellows is too long and might rub on the item to be protected.
They are particularly recommended for horizontal mountings, especially on ball screws.
To facilitate the extension or compression of the bellows, especially in high speed, it is necessary to provide one or several vent holes, so that the air can freely evacuate.
Required ventilation in case of a bellows with 2/P option.
Kevlar® or Nomex® canvas for better tear resistance and also temperature resistance.
Possibility of waterproof stichings
QUANTITY
Just one or in series, small or medium
DELIVERY TIME
We can make the bellows and ship it on the same day!
DISPATCH
We can ship all our products in France and abroad